5 Routing

Now, it is time to start routing the rubber band! But… hold it… we have to thing about something prior to that! It is a good practice to follow preferred directions on each layer of the board.



Figure 8: The first track
5.1 Preferred Directions, Vias

For a through hole layout, this is a choice, that usually can be done easily. Just pick one. Let's say "Top horizontal, bottom vertical." It is only important, that you follow this while routing.

The track in Figure 8 might look stupid. It would be possible to route directly on one layer, not having to have a "via". A via is a through hole connection of tracks on two different layers. It is plated through like an ordinary solder pad. But the diameter is smaller. 20 years ago, 0.6mm/24mil vias were standard. In 2020, I would recommend 0.35mm maybe 0.4mm, if the current allows such a small via. For higher currents (like in a power supply) I still use 0.6mm maybe even more than one via.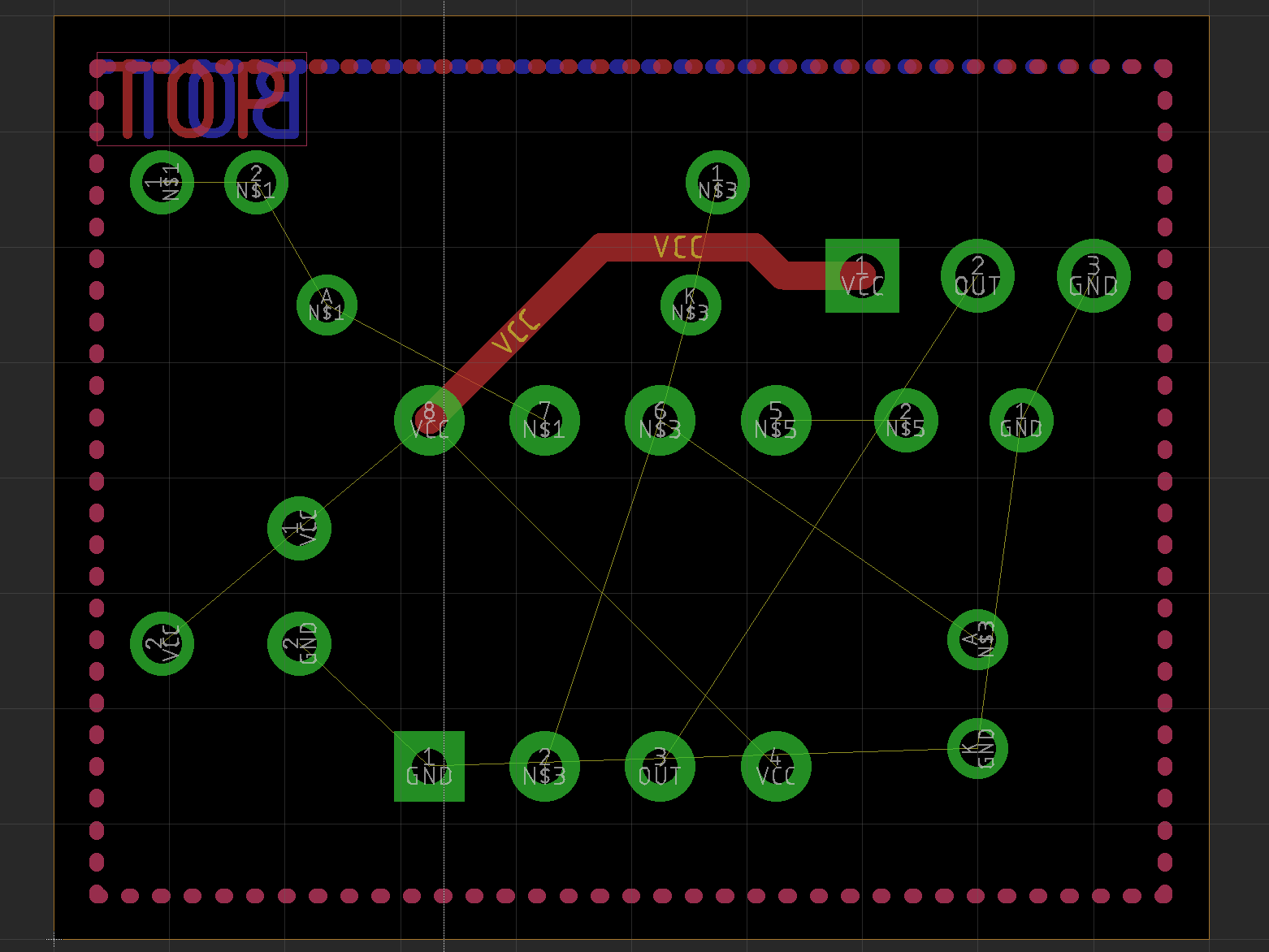 Figure 9: Don't do this! Direct routing without following the preferred directions


The track in Figure 9 might look smarter, but it does not follow the previously chosen preferred directions. Doing so will cause the layout to get exponentially more difficult, the more rubber bands are routed! A layout with preferred directions might get a bit harder on the way, but not much harder. And in case the prototype requires a revision (which happens quite often), it is not a really big deal to modify the layout.

5.2 Supply Signals First

It is a good practice to route the supply voltage(s) and ground(s) with wider tracks. Both, especially the grounds should be low impedance. The ground is the reference and a significant voltage drop on ground might result in malfunction. This is the reason, why it is a good practice to route GND and VCC (or other power potentials) prior to the rest of the tracks. This is shown in Figure 10.



Figure 10: GND and VCC routed first
5.3 Copper Weight/Layer Thickness

For "normal" circuits, like "something digital, some analog ICs" things, it is ok to use a width of 24mil/0.6mm for VCC and GND. Higher currents will require wider tracks or even a thicker copper layer. Average PCBs have 35µm (1oz) copper layers. Higher currents might require 70µm (2oz), this is the choice you have with most "cheap prototype PCB manufacturers from China". For high current layouts, 105µm (up to 400µm) copper is possible. But this will usually not occur in DIY projects. For this purpose, 35µm copper are recommended.

The supply voltage tracks in Figure 10 are routed following the preferred directions chosen before.

5.4 Track Width/Distances

Now, only the "other signals" are left and require routing. Nowadays, 6mil tracks (and 6mil distance) are possible with the said prototype manufacturers. Personally, I stay with wider tracks, if possible. So, my choice is 8mil, 10mil or even 12mil tracks (12 mil was the standard in the late 1990s). It just reduces the likelihood of failure (slightly).


1 mil is 1/1000 of an inch = 0.0254 mm

The remaining signals are all routed following the preferred directions. The result is already a working PCB layout. But careful! A design rule check is still required to prove, there are no overlaps or that the tracks are too close together.

The standard for PCB layouts is the IPC-2221. Here is an excerpt regarding the maximum current for the track width for 35µm/1 oz copper (this is, what you will usually use).



The temperature rise means, if your PCB lives in a 40°C environment, the track temperature will be 10°C higher (=50°C) or 20°C higher (= 60°C).
Find more tables
here.


Sometimes there are
safety requirements for the track distances
.
I do not encourage you to do layouts incorporating high/mains voltage.
Those require wider distances between each other for safety reasons. For 230VAC, I use distances of 5mm between L(ife) and N(neutral) and PE. And more than 6mm to the low voltage part. It depends on many things, even the desired maximum height above sea level and of course the degree of contamination. That is engineer's stuff!


5.5 Layout optimization

Finally, all signals have to be routed, taking care the required width and distances and of course the preferred directions..

Figure 11: All signals routed!

Before declaring the layout to be finished, some cosmetics should be done. First, the tracks can be optimized a bit. That means making them shorter by using more diagonal directions (Figure 12).


Figure 12: Optimized layout

There is not much difference of the optimized layout. It is a pretty simple circuit anyways. Using the diagonals will free some space, that can be used for other tracks being shorter, too. Mainly the VCC tracks have been modified, here. One track (the topmost VCC path) was ripped up and routed again.
In technology, it is required to be able to dump old ideas or work for creating something better. PCB layouting is a good thing for practicing this philosophy. Since I enjoy this work, it is not even hard for me. It is a bit like cross word or sudoku, but the result will be of great use.

5.6 Ground Planes/Copper Pouring

Like mentioned before, especially the ground (GND) potential should be as low impedance as possible. It is the reference for all signals in the circuit. If it is "moving" (due to voltage drop), everything is less determined. It is not completely unlikely, that problems can result from GND problems.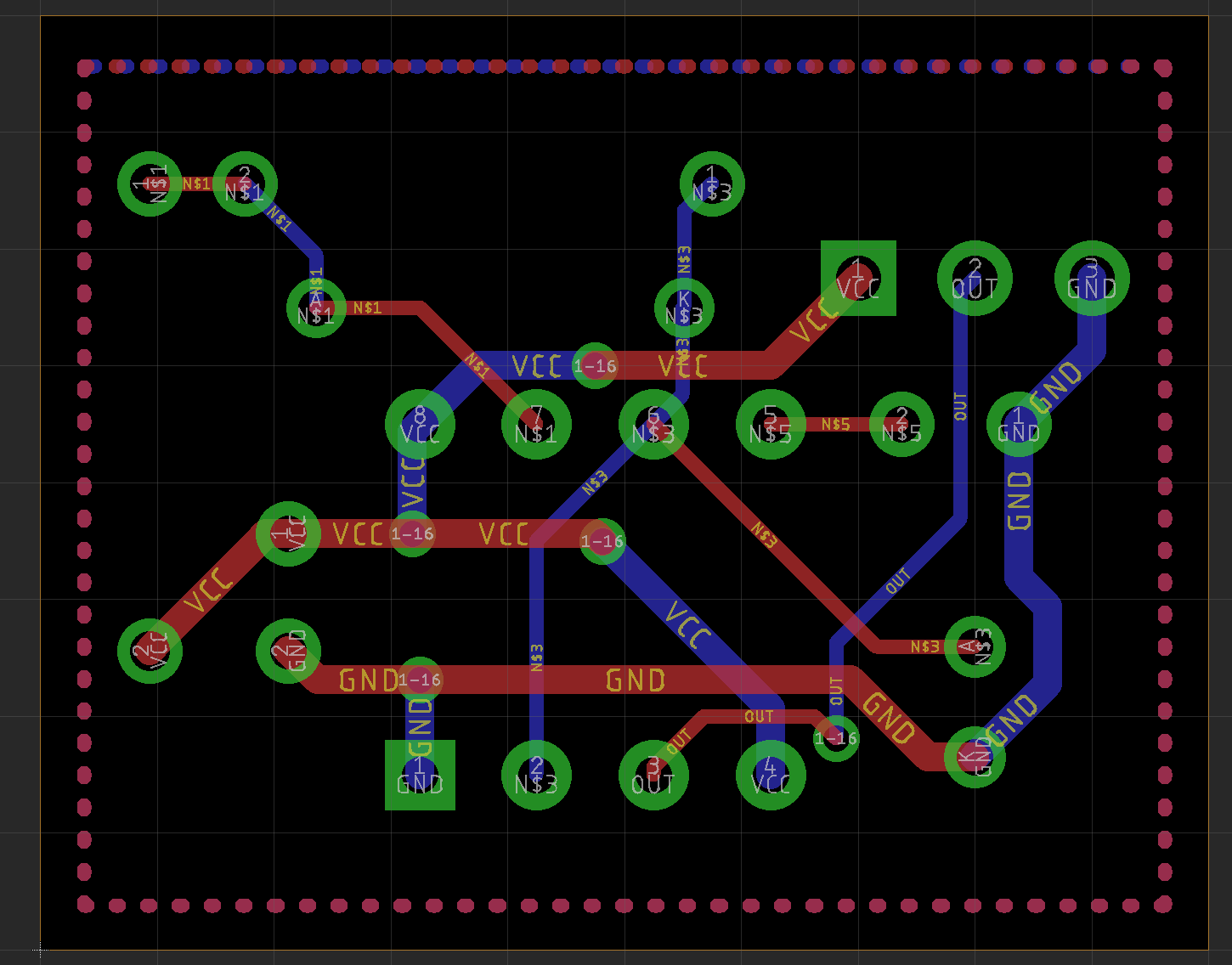 Figure 13: Layout with ground "polygons"


Hence, it is best practice to add ground planes to the PCB. Actually, it is a copper pouring, which I am talking about. There are no extra copper layers required. The desired outlines of the pouring are drawn as polygons, which are assigned to the GND signal. The possible infill will be calculated automatically be the software. The infills might look complex, but it is no work, that has to be done! The computer does it for you.



Figure 14: PCB with copper pouring

The copper pouring is calculated, so that a minimum distance to all other signals is met. Other than having a low impedance reference potential (aka ground) the copper infill helps to keep the (electro-magnetic) emissions low. I never had issues with emissions of my boards in EMI compliance testing.


Story time!!!
I once helped a customer to get through the mandatory EMI compliance test. He had a company logo, that incorporated a line and that logo was on the top copper layer of the PCB. Of course, the line was not connected to anything. First there were problems with the emitted fields. It took a bit to track that down to something. It was this line, which worked as an RF transmitter (it had the perfect length for the spectral frequency, that was above the limit). After covering it with a copper tape, the problems were gone.

5.7 Thermals

The GND pads are connected to the copper infill with a "cross". This is called a thermal. Planes are hard to solder, because the heat seems to escape through the mass of copper, that is connected. Copper is a great heat conductor. To keep the problems as small as possible, those thermals are generated. The GND pads are still a bit harder to solder than normal pads, but it would be much harder to solder them without those thermals.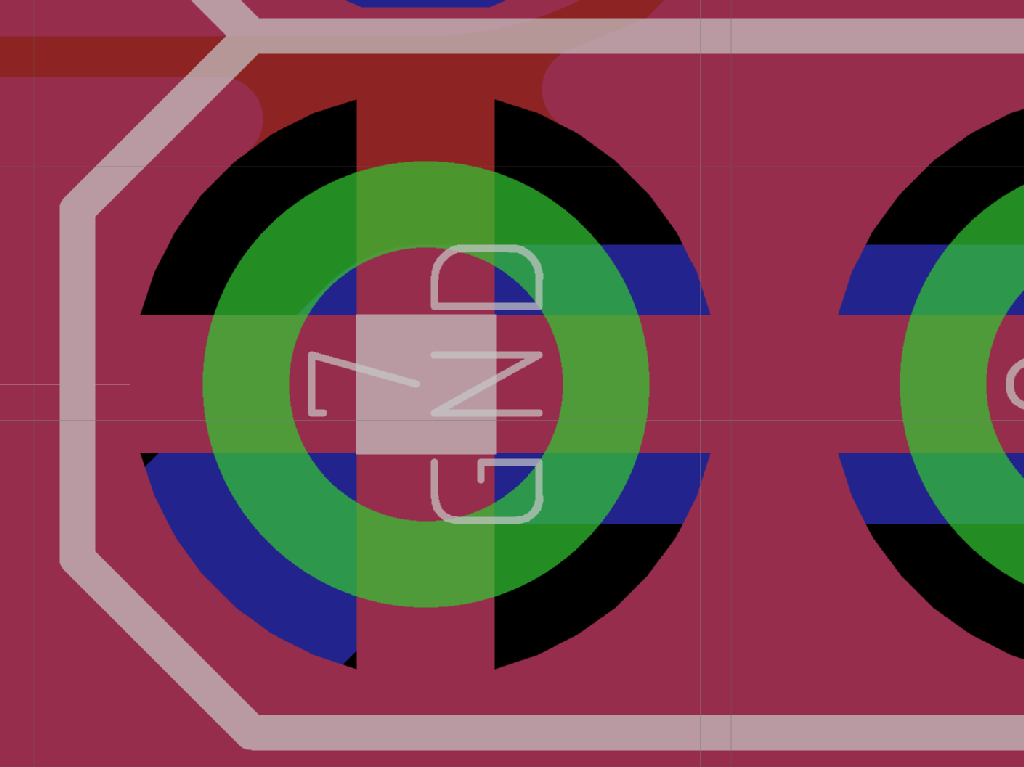 A thermal
Story time!!!
In a very high current design (up to 200A!), I have disabled those thermals. Even for professional assembly houses with wave soldering machines, the pads have to be inspected carefully for proper solder joints and might require some rework. Sorry for that, but the design requires it. So, use thermals, whenever possible.


5.8 Markings and Silk Screens

With through hole PCBs, it is not always obvious at first glance, which side is top and which is bottom. So, it is best practice to mark the sides.
This is should be done in a free space somewhere in the copper, like in the top left corner in Figure 15).
For industrial purposes, the "silk screen" (which is the drawing of the placement on top and maybe bottom of the PCB) is usually not required. Those boards are installed by experts, they know, what they are doing without this print.

The prototype PCB manufacturers offer top and bottom silk screens for the same price, so it is a good idea to make use of them and add as much information as possible.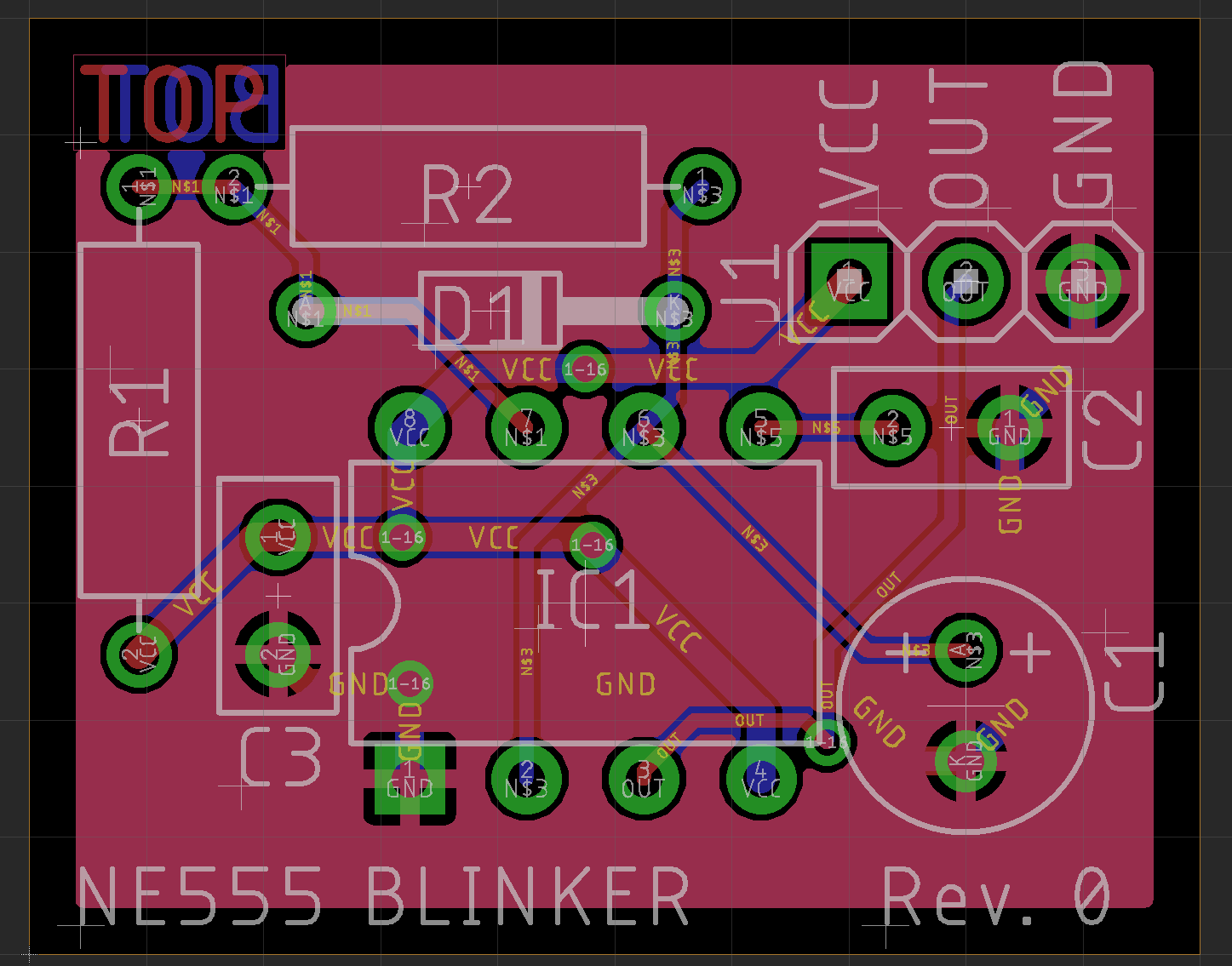 Figure 15: Finished layout


The reference designators (Names of the components), like C1, C2, R1 etc. should not be placed above pads. This way, they are not visible and of no use. They need to be moved to a space close to the components, so it is clearly visible, which component they name. Spend some thoughts on it. When the PCBs arrive, you will not remember all the names or maybe somebody else will want to build your circuit, too and they should easily know, which part is placed where.
For some time, I am also into designing open hardware (sharing is caring). The difference to industrial designs, which I am doing for 25 years, now, is in the documentation and of course the maximum of information, that is put on the silk screen, since those projects do not address the professionals, but the tinkerers at home. This is the reason for the "VCC, OUT, GND" marking at the connector J1.


It is required to be able to identify the boards, easily.
After many hobby projects, you will have a box full of PCBs. It should be obvious, which project they belong to and also, which
revision
they are. My first prototypes are "Rev. 0" (we tech people start counting from zero, right?). The next PCB revision will be "Rev. 1". I count it with whole numbers. There are no half revisions. Ok, this is my philosophy, others can do it in a different way. The only mistake is not adding a revision number to a PCB. For designs without a silk screen I add a project number and revision like "ppp/nn" somewhere in the copper.



TOP marking and fiducial on a real PCB (free of solder stop mask)




Bottom marking on PCB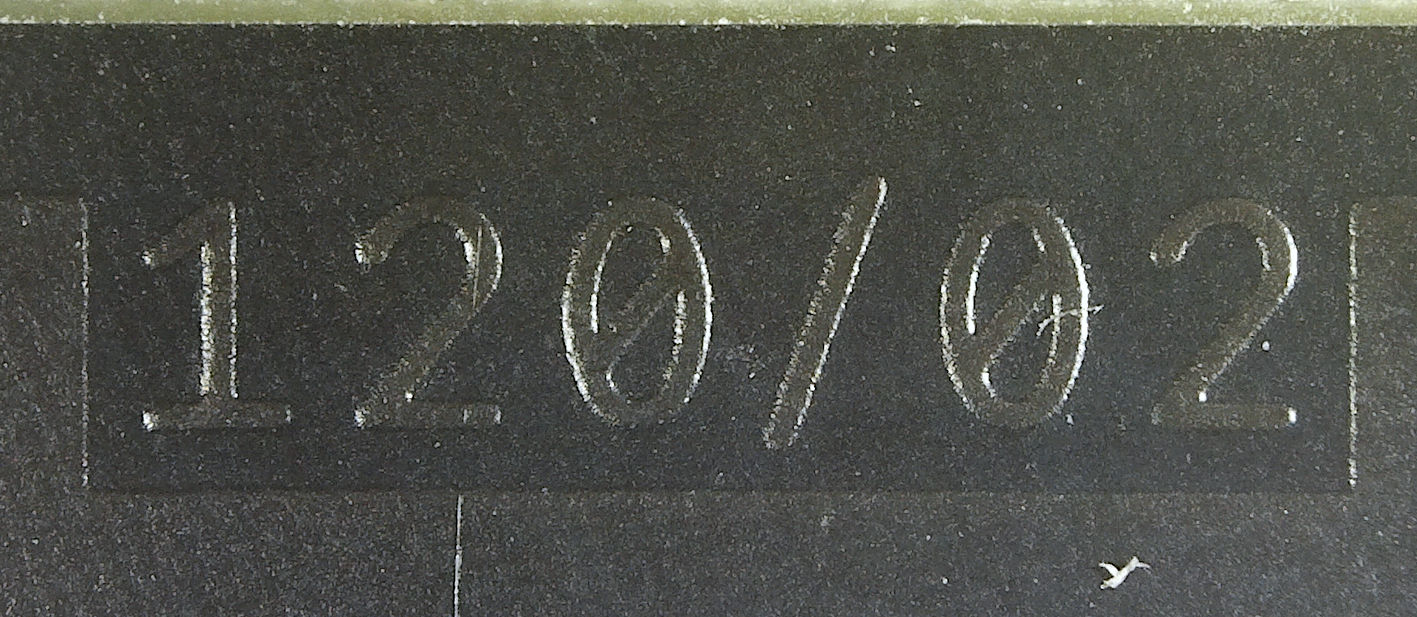 Project number and revision for identification purposes